16 May

NDSU Pest Management Application Now Available

,

May 16, 2014

—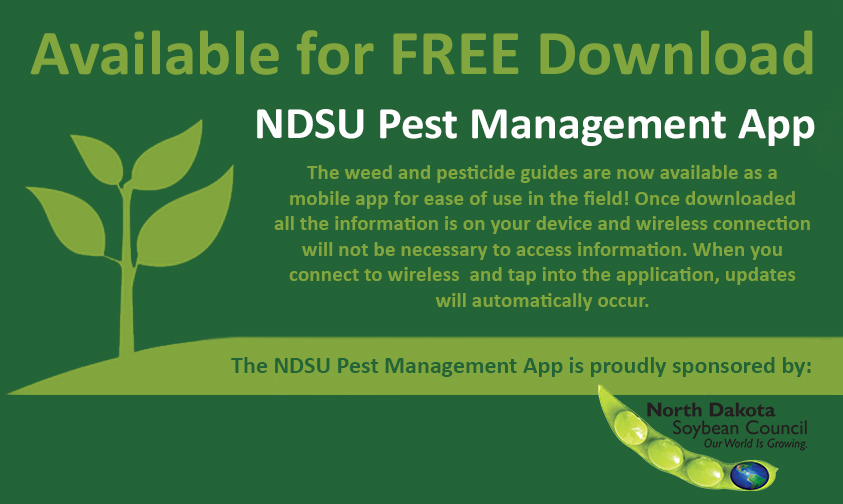 The long-awaited NDSU Pest Management app for smartphones and tablets is now available from the Apple and Google Play stores.  Simply type "NDSU Pest Management" in the search bar, and click enter. The NDSU Pest Management app will appear and can be downloaded.
The initial download will take more time to transfer to devices. Once downloaded, all the information is on your device, and a wireless connection will not be necessary to access information. After the app is downloaded, timely updates will automatically occur when connected to a wireless network while the application is opened.
The app is designed for ease of use, providing growers with another tool as they make field decisions. The North Dakota Soybean Council is a proud supporter of this project, funding the soybean portion of the application.
The app is searchable within each category, giving users a quick way to find a pest or management aid quickly and efficiently. There are also special tools specifically designed for the weed section of the app to provide herbicide-efficacy ratings about specific weeds and crop-rotation restrictions for herbicides with residual properties.
The NDSU Pest Management app is a tool that combines select information from the North Dakota State University Weed Guide, Disease Management Guide and Insect Management Guide.
Questions or comments can be sent to ndsu.pest.management@ndsu.edu or to angela.kazmierczak@ndsu.edu.
###